Yesterday I shared a card I made using the April Stamp of the Month and the Wanderful paper packet. Today, I'm sharing another card featuring the Wanderful paper packet, but with a totally different stamp set. In fact, this stamp set comes in the Wanderful Scrapbooking Workshop on the Go (which includes the Wanderful Paper Packet, an Exclusive Stamp Set, extra cardstock, the Wanderful Assortment, Black Arrow Washi Tape, and an Instructional Brochure). Why not use those stamps to make cards with your left over papers?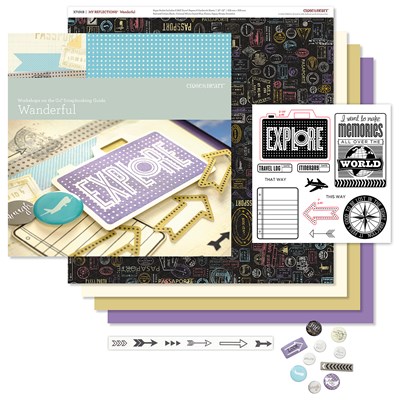 Mojo Monday
. I used it to create a 7" x 5" card. I've included a products used list, complete with links and photos at the end of this post.
One little fun tidbit to note is that I used my
black alcohol marker
to color the arrow details (
triangle durables
) and
enamel stars
. I wanted them to be black so I just pulled out my trusty marker and went to town. You can use our alcohol markers to color any non-porous embellishment. Cool beans!