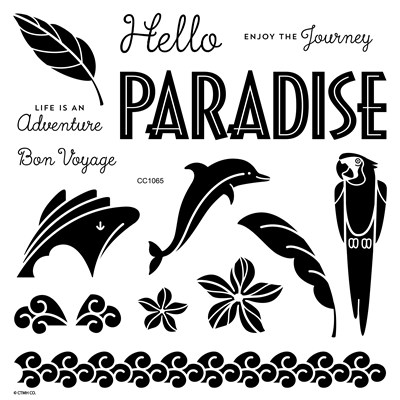 As many of you know, I just got back from a week long cruise in the Eastern Caribbean with Close To My Heart. One of the gifts the company gave to each cruise earner was a beautiful
stamp set called Hello Paradise
. It was such a hit, they are offering this set to YOU, for only a couple of weeks. This stamp set will go away on March 31, at the stroke of midnight, mountain time (do you feel like Cinderella?). This set is perfect for tropical vacations, beachy/summery cars, and so much more!
On top of the fact that this set is only available until March 31, you might remember that Stampaganza (for every 2 stamp sets you purchase in March, you get 1 of equal or lesser value for FREE) also ends at the stroke of midnight, mountain time that day. This set is perfect to add to your Stampaganza order! Don't wait until the very last minute (like Cinderella) to take advantage of Stampaganza, get in there and order now! You wouldn't want to be caught with one shoe at the last minute.
To see all of our stamp sets, click
here
. They are listed by category. Just click on each category to see all of the sets that are part of it. Also, when ordering on my website, you'll want to put in ALL of the stamp sets you want (including your free ones), and the appropriate stamp sets will be zeroed out before you check out. Easy, peasy, lemon squeezy!
Look at these beautiful layouts that the Close To My Heart art department designed with this set! These will be going in my Eastern Caribbean Cruise album along with many more made with made with the limited time only
Hello Paradise stamp set
!